So to start off with the different trends this Autumn time, (which is always my favourite time for fashion!) it is pretty the Summer festival trend but just transitioned for the colder days! We'll be seeing a lot of the same floral bohemian prints, flowy garments and neutral colours. A lot of different designers have incorporated sheepskin, suede and leather to their collections which adds to the folk look! The prints are very much country inspired, florals and Aztec type prints which are usually embroidered onto the garment.
This look was seen across lots of different runways with such designers as Tommy Hilfiger, Pucci and Burberry Prorsum, which were my favourites!
Tommy Hilfigers collection is more casual and chilled compare to the other two designers. I really like how everything is very fresh and clean cut, there's nothing too floaty and the garments are very structured. Leather, sheepskin and suede was see throughout the collection, especially within his coats and jackets like above. I also like how he has used very Autumnal colours but adds in the odd teal blue, and vibrant orange which catches your eyes instantly! There was only a few distinctive patterns in the collection, the first obvious one is checkers and tartan like above. I love how each one has different sized lines/squares and how there are multiple colours. The second pattern is the Aztec print, but only subtly, which helps to give that ski wear look.
Next is Pucci which is a lot more glam, with the dresses being heavily embroidered and with much wilder prints. There is a lot of fur being seen, from a small amount on the collar to a whole coat or vest being made. I love the intricate and detailed patterns, which takes a very geometric form, I also like the colour combinations they used in the prints. However, I do feel that some of the prints can be too much especially on the jumpsuit in picture no.6 I feel like only the top or bottom should have a print and the other be a block colour to even it out! The colours are very neutral, a lot of dark browns are used and mostly with the leather. They have also added the vibrant orange just like Tommy Hilfigers, this colour could be very big this Autumn!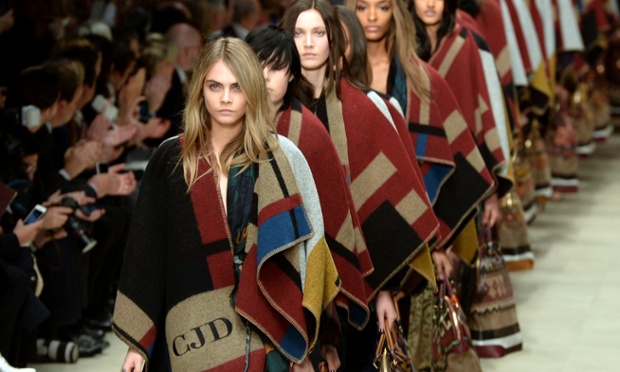 Lastly its Burberry which never fail to impress me! I've seen a lot of ponchos in this collection which I really like as they have re-invented it with new prints and fabrics, my favourite one is suede on one side and fur on the other. Burberry's garments are a lot more flowy than the other two, which is nice to see, the have the bohemian shape and colours but with an abstract print. I like the tone of yellow which they have incorporated as I didn't see it too much and I kinda like it especially with the floral print they paired with it.
So do you guys like this trend for Autumn, what's your thoughts on it? Let me know below! Also who's your favourite collection you've seen for A/W 2014? I hope you liked this post and don't forget to follow me on GFC or Bloglovin so you don't miss my next fashion forecast so you know the other trends for this Autumn! Until next time have an awesome amazing day...
Emma
xxxxxxxxx